How To Dress A Plain Concrete Patio In Poway Ca?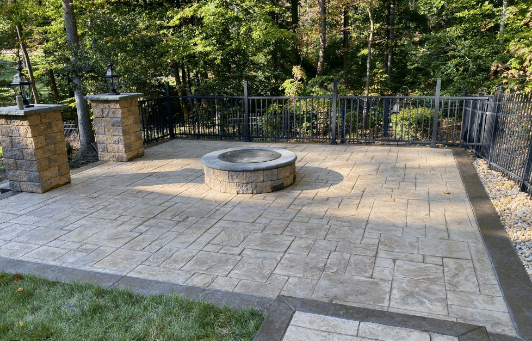 Concrete patios are a great way to enhance your outdoor living space and add some extra enjoyment to your yard. But if you want to make the most out of them, there are a few things that you can do to dress up dull concrete. Here are 7 tips for dressing up plain concrete patios:
One of the easiest ways to spruce up a plain concrete patio is with paint or stain. Choose vibrant colors that will stand out in your landscaping, or use subtle hues that blend into the background. Use stencils or tape off specific areas of your patio and create patterns or designs with different shades of paint.
Installing pavers over your existing concrete slab can give it an entirely new look. Choose from a variety of materials and designs to create a unique pattern for your patio.
Planting flowers along the edges or in clusters around the patio will add some life and color to your outdoor space. Consider using native plants that are suited to your climate, or pick out some showy annuals and perennials that you can plant each season.
Building an outdoor fireplace is a great way to make use of a plain concrete patio while adding value to your home. A wood-burning or gas-powered unit will provide warmth on cool nights and act as a centerpiece for family gatherings.
Installing a fence around your patio can add a nice touch of privacy and security. Choose from wood, vinyl, or metal for a variety of looks that will suit your taste.
Building a stone wall or adding some stonework accents to the patio can give it an inviting rustic charm. This is also a great way to create seating areas and focal points on your patio.
Adding lighting fixtures to the perimeter of the patio will provide illumination at night as well as make it look more inviting during the day. You can choose from solar-powered lights, traditional wiring options, or even candles depending on what suits your needs best.
FAQ's
What Can I Put Over Concrete Patio?
You can put pavers, paint or stain, stone wall accents, lighting fixtures, and fences over a concrete patio to enhance the look.
Can I Install Pavers Over An Existing Concrete Slab?
Yes, you can install pavers over an existing concrete slab. It is important to make sure that the surface is completely level before installing them.
What Types Of Plants Should I Use On My Patio?
Choose from native plants that are suited to your climate or pick out some showy annuals and perennials that you can plant each season. Consider using drought-resistant or low-maintenance plants for easy care.
Conclusion
It is easy to dress up a plain concrete patio and make it look more inviting. With a few creative ideas, you can turn your outdoor space into an oasis that will be enjoyed for years to come. For more information, contact Concrete Contractor Poway Ca at (858) 683-6565.