Some Aesthetic Concrete Patio Design Tips In Poway Ca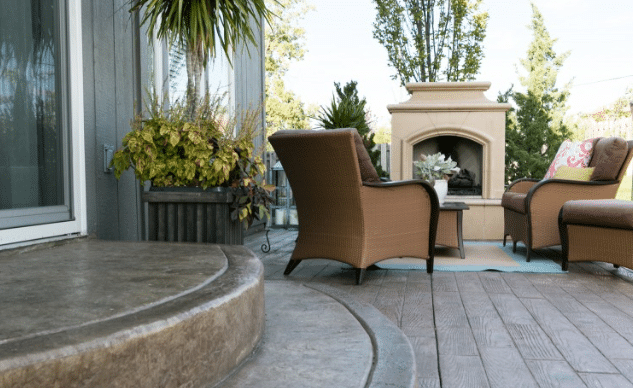 Concrete patios are popular among homeowners for a reason; they provide a durable surface that is both aesthetically pleasing and easy to care for. In addition, concrete patios can be customized with colors, shapes, textures, and patterns to suit your specific aesthetic preference. With these 7 tips, you can create an attractive patio that will last for years to come.
Contrasting colors add visual interest to your patio by creating depth and dimension. Mix and match different shades of gray or use other colors like blue or red to make your patio look more interesting.
While smooth concrete may look nice enough, it can become monotonous over time. Adding texture with a trowel or stamp can create a unique look that will draw the eye.
Patterns are another great way to add visual interest to your patio design. Consider using geometric shapes or repeating motifs like chevrons or diamonds for a modern look.
To create an attractive edge, consider using brick, stone, or lumber as a border for your concrete patio. This not only adds visual interest but also serves as a physical barrier between the patio and other areas of landscape.
Adding lights to your patio creates another layer of dimension and makes it more inviting at night. Low-voltage LED lights are easy to install and provide enough light for entertaining.
Planters filled with plants can add beauty and life to your patio design. Choose a variety of colors and textures for an eye-catching display.
If you want to extend the use of your patio into the evening hours, consider installing a firepit or chiminea. This will provide warmth and atmosphere on chilly nights and make it more inviting for guests to gather around.
FAQ's
What Color Is Best For Concrete Patio?
The best color for a concrete patio will depend on your personal preference. Neutral colors like gray or beige are popular, but you can also choose brighter colors like red or blue to add more visual interest.
What Is The Best Way To Finish A Concrete Patio?
The best way to finish a concrete patio is with a sealant. This will protect the surface from wear and tear and help it last longer. You should reapply sealant every few years or when the surface starts to look dull or faded. You can also use texture or stamping tools to create an interesting finish on your patio.
How Do I Choose A Patio Color?
Choosing a patio color should depend on your personal preference and the design aesthetic of your home. Neutrals like gray or beige are classic choices, but you can also use brighter colors to create contrast and add visual interest. Consider using accent colors around edges or as borders for additional dimension.
Can You Install Outdoor Patio In Your Backyard?
Absolutely, it is not only possible, but also a popular home improvement project to install an outdoor patio in your backyard. Doing so can provide you with a fantastic area for entertaining guests, dining, or simply relaxing outdoors. There are several factors to consider when planning to install a patio. The size of your backyard is the first thing to take into account; it should be large enough to accommodate the desired patio size. Next, consider the material you'd like to use. Concrete, bricks, pavers, stone, and wood are all common choices, each offering its own aesthetic appeal and maintenance requirements. Think about the location of your patio as well. Some people prefer it to be close to the house for easy access, while others might choose a secluded spot further away to create a distinct outdoor 'room'. The placement of the patio could also be influenced by factors like sunlight exposure, wind direction, or the view. Remember that installing a patio may require a significant amount of work, including preparing the ground, laying the foundation, and installing the patio material. While it is feasible to do it yourself if you have the necessary skills and tools, hiring professionals could ensure the job is done right and potentially increase the value of your home. Furthermore, be aware that certain locales may have zoning laws or require permits for outdoor construction, so be sure to research this before starting your project.
Conclusion
It is possible to create an attractive and long-lasting concrete patio with the right design tips. By utilizing contrasting colors, adding texture, incorporating patterns, using borders or edging, accenting with lighting, adding planters, and considering a firepit or chiminea, you can create an aesthetically pleasing outdoor space that will stand the test of time. For more information regarding patio covers, concrete staining or concrete floors, contact Concrete Contractor Poway Ca at (858) 683-6565.